Stablecoins return to Bitcoin?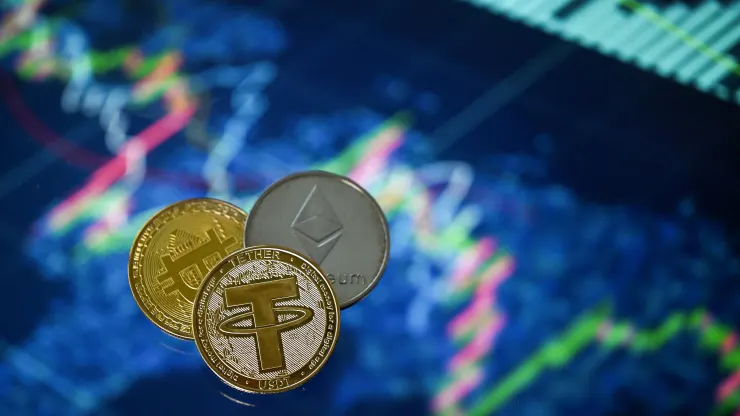 Stablecoins return to Bitcoin? Tether CEO Paolo Ardoino is very optimistic. In his opinion, USDT could achieve resounding success on the oldest crypto blockchain thanks to a new system. In fact, the most important US dollar token also got its start there.
Stablecoins return to Bitcoin? Tether CEO optimistic
Will stablecoins soon make a brilliant return to Bitcoin ? Paolo Ardoino, long-time technical director and now managing director of Tether, is very optimistic. The background to this is RGB – a protocol that is intended to provide Bitcoin with new functions.
The first US dollar stablecoin that continues to dominate its niche to this day, Tether (USDT), got its start on Bitcoin. At that time, the responsible developers used a protocol called Omni.
The venture, which started in 2014, ended in August 2023. Since then, users who still have Omni-USDT can exchange it, but can no longer create new tokens.
Ethereum and Tron are the most important blockchains for Tether today. Most stablecoins move across these two networks. Tether achieved its resounding success on Ethereum. Tron was later adopted, which allows users to send their tokens much faster and cheaper.
Interest in Bitcoin-based stablecoins has been growing for several months. However, since the blockchain of the largest cryptocurrency only accepts one native token due to its technical functionality, the stablecoins always have to run over an additional layer.
Tether founded the subsidiary Synonym in November 2021, which is working in parallel with RGB on its own solutions to popularize USDT on Bitcoin. In a Twitter Space from March 2022, Ardoino criticized the competing solution from RGB for its lengthy development work.
In the spring, many new Bitcoin tokens based on ordinals also enjoyed great popularity. A stablecoin was also created as BRC-20.
What exactly is RGB for Bitcoin?
What exactly is the RGB protocol for Bitcoin? The name is derived from the RGB color model and was created in response to the term Colored Coins , which is used to describe real-world assets that are mapped on the Bitcoin blockchain.
In the context of Bitcoin, RGB is of course not a color model, but a technical system that enables the creation of smart contracts. The developers themselves write about it on their website :
RGB is a client-side validated status and smart contract system that operates on Layers 2 and 3 of the Bitcoin ecosystem.
RGB does not work independently, but is used in conjunction with another network. The Lightning Network, for example, is an option.
According to its own statements, RGB places a high value on confidentiality and is encrypted using zero-knowledge proof. Applications far outside the financial sector are conceivable.
Ardoino believes modern alternatives to Omni have a good chance of success, he told The Block .
Unfortunately, Omni has recently suffered from a lack of support that has affected its ability to develop sustainably. Tether is currently evaluating a timeline for a possible issuance of USDT via RGB.
"RGB represents the best way to have a modern, scalable, client-side smart contract system that allows tokens on Bitcoin ," adds Ardoino. RGB is very popular among Bitcoiners. Tether also now considers the project to be capable. There is therefore nothing standing in the way of the successful establishment of USDT.
The project, which no longer has anything to do with colored coins, was started in 2018.